To mark Rare Disease Day 2021, Professor Alan Boyd reflects on the work that he and his colleagues carry out to support the development of advanced cell and gene therapies to treat orphan diseases.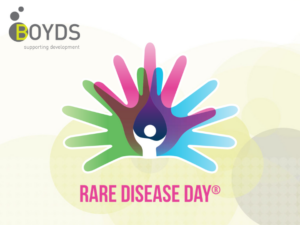 Rare Disease Day aims to raise awareness of the 300 million people across the globe that are living with a rare disease. In Europe, a disease is considered to be rare when it affects fewer than 1 in 2000 people, and there are approximately 6,000 rare diseases that have been identified to date.
Each rare disease may only affect a small number of people, and due to the lack of scientific knowledge, information and data on these diseases, there is often a delay in diagnosis and access to treatment or care, if it exists.
"Often relatively common symptoms in patients can hide underlying rare diseases and lead to misdiagnosis. But access to the right or best treatments is the challenge," says Professor Boyd. "Historically big pharma has had little interest in developing medicines that ultimately will only treat a small number of patients. The emergence of innovative biotechs and new technologies has led to a growing interest in the development of therapies to help address this unmet need."
Seventy-two percent of all known rare diseases are genetic, whilst others result from infections, allergies and environmental causes, and seventy percent of those genetic diseases start in childhood.
Boyds was formed in 2005 to support researchers who were moving into the field of innovative and biologically-based medicines, such as antibodies, immunotherapies and cell and gene therapies, but lacked the experience needed to develop and progress these products to become approved medicines.
The very nature of rare diseases means that research needs to be international to facilitate collaboration and pooling of the relevant resources and expertise across clinicians, researchers. Boyds has built a wide network as well as a strong global reputation for its work and won a Queen's Award in recognition for its international work supporting the development of gene therapies.
Over the past sixteen years, the team at Boyds has obtained over forty orphan drug designations with the EMA and FDA and has been directly involved at some time in the development of seven out of the ten gene therapy products that have been approved for patient use on both sides of the Atlantic.
"This is something I am hugely proud of. I have been able to witness first-hand how some of these important medicines have and are transforming patient lives," says Professor Boyd.
"There is a long journey ahead in the development of treatments for rare diseases, but this is a growing area and one that is attracting interest from researchers as well as investors. This momentum will lead to the successful development of many more medicines to treat rare diseases in the years ahead and our team is committed to supporting this."
The team at Boyds supports biotechs and academic groups across the globe with the development of medicines working with them every step of the way from programme management through to setting up and managing global clinical trials, to preparing regulatory submissions and dealing with the regulatory authorities. This is all done with one aim in mind, to develop medicines for patient benefit.