Pharma Product Development
Boyds' product development team is highly experienced in the development of medicinal products, working across a wide range of product types and spectrum of therapeutic areas.
The team is able to use its extensive experience to assist clients in planning and executing their development programmes, by providing strategic input and advising on or building an overall development plan for the product from concept, through pre-clinical development, to first-in-human and later-stage clinical studies, through to registration and beyond. Operationally, the Boyds team works closely with clients to oversee an agreed programme(s) or work, which may cover all aspects of development,  including manufacturing and analytical characterisation, pre-clinical studies and regulatory activities.
Boyds' experience with advanced therapies enables us to innovate when faced with novel situations for which there may be no obvious development or regulatory precedent.
Examples of where Boyds Product Development Team can assist you, include:
Project leadership
Development strategy planning and execution
Management of programme timelines and resources
Selection of contract manufacturers and analytical labs
Identifying and subcontracting a consultant QP
Identifying pre-clinical CROs
Pre-clinical study design, placement and oversight
Identifying and subcontracting a consultant toxicologist
Clinical product development strategy
Selection of clinical CROs
Identifying and subcontracting a consultant biostatistician
Collaborate with Boyds' regulatory team to provide regulatory strategy, prepare and submit regulatory documents/dossiers, and liaise with regulatory agencies
Support for commercialisation activities
Undertaking technical due diligence/technology assessments and support for in-licensing activities
Support for partnering/out-licensing, and fundraising activities
Support for partnering/out-licensing, and fundraising activities
Assistance with grant applications
Support for GXP auditing
Document QC services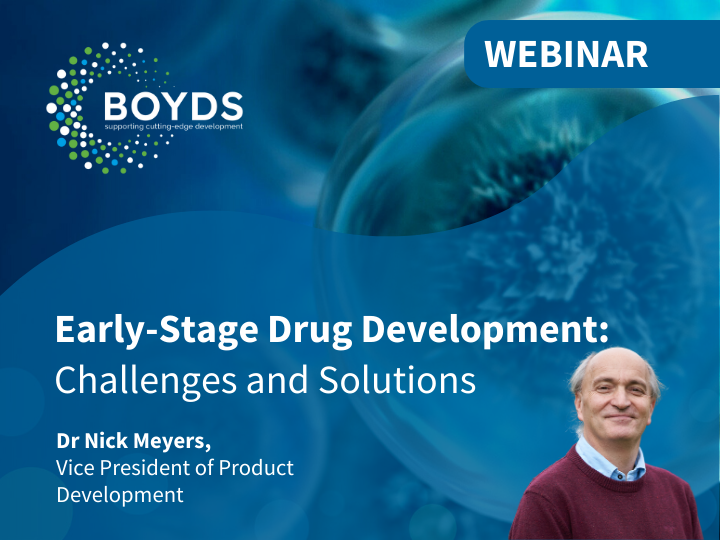 This free webinar focuses on some of the most common challenges faced by biotechs, academic groups and pharma companies in the very early phases of developing drugs, whether they be small molecules, traditional biologics or advanced therapies. Dr Nick Meyers, Vice President of Product Development at Boyds, shares his insights and solutions to help overcome or avoid these challenges.
Speak to a member of the product development team today