Boyds has opened an office in Dublin, Ireland in a step that will ensure the continuity of service to its clients once the UK leaves the EU.
The new office will be based at DCU Invent on the Dublin City University Campus.
Professor Alan Boyd, Founder and CEO of Boyds, commented: "The UK's departure from the EU has significant implications for the UK pharmaceutical industry, and both the European Commission and the European Medicines Agency have been very clear that for market authorisation holders to ensure their medicines can remain on the EU market, they have to be prepared for the UK to become a third country."
The Dublin office will provide Boyds with the foothold it needs in Europe to ensure clients can continue to benefit from access to the European Medicines Agency (EMA), as Professor Boyd explains: "The opening of our Dublin office is especially important to the work we do in supporting the development of medicines for patient benefit.
"We work with clients across the globe who come to us for our regulatory expertise, and who wish to benefit from the easy access to the EMA that allows them to get development advice and gain market authorisation for their drugs and medical devices. We need to ensure we are positioned to continue this vital work with the EMA."
Boyds is also pleased to announce the appointment of Siobhan Gaynor to head up the office in Dublin as Consultant of Business Development and Regulatory Affairs.
Siobhan has over 28 years' experience in a wide variety of research, business development and executive roles in clinical and translational health research across major pharmaceutical companies, biotechnology start-ups and academia, including Spark Therapeutics, GlaxoSmithKline, Clinical Research Development Ireland and Cancer Trials Ireland.
Prior to joining Boyds, Siobhan worked as an R&D Advanced Therapeutics and Rare Disease specialist, providing consultancy services to clients in the area of gene therapy, technology transfer, portfolio prioritisation, programme management and company operations.
Siobhan said: "I am delighted to be heading up Boyds' new Dublin office. I have worked with Alan and his team in the past and was particularly impressed by their depth of experience and professionalism.
"I will bring my preclinical, clinical, regulatory and program management experience to Boyds, as well as my extensive knowledge of Irish companies."
Professor Boyd added: "Siobhan brings extensive experience to Boyds and has an impressive track record in securing funding and managing commercial and academic research projects and collaborations across Europe and the US.
"I am delighted that Siobhan will be taking on the important role of heading up our Dublin office, and using her invaluable expertise to help drive our exciting growth plans."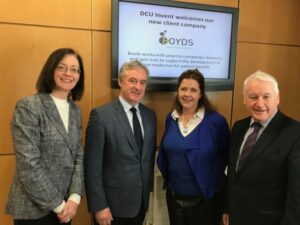 He added: "The Dublin office is a significant step in Boyds' ongoing expansion strategy, and Brexit aside, this is an important move for us as a business so we can continue to create further opportunities in Ireland and beyond."
Richard Stokes, Invent CEO and DCU Director of Innovation, added: "We are very pleased that Boyds has chosen the DCU Invent as its new Dublin office. Our facility will enable Boyds to collaborate and forge strong links with researchers working in Dublin, helping the firm to innovate further and support its ongoing growth plans."